The ARS 71st International Convention Convened in Yerevan, Armenia
October 7, 2015
The official opening of the 71st International Convention of the Armenian Relief Society (ARS, Inc.) took place on October 4, 2015 at the DoubleTree by Hilton Hotel in Yerevan, Armenia. Several officials were present, including the Republic of Armenia's (RoA) Minister of the Diaspora, representatives of the Armenian Revolutionary Federation (ARF) Bureau and sister organizations, the director of the European Armenian Federation for Justice and Democracy (EAFJD), and ARS supporters, convention delegates and observers.
Remarks were offered by ARS, Inc. Chair, Vicky Marachelian; ARF Bureau member, Hagop DerKhatchadourian; RoA's Minister of the Diaspora, Hranoush Hagopyan; and representative of ARS Armenia, Jenik Barsamyan.
During the official opening, a formal agreement of cooperation with regards to cultural, educational, and social projects was signed between the Ministry of the Diaspora and the Armenian Relief Society.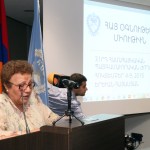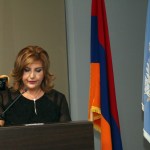 The ARS "Ararat" Award of Excellence was bestowed upon Dr. Eleni Theocharous, member of the European Parliament and head of the EU-Armenia group, in appreciation of her voluntary humanitarian and medical assistance during the Artsakh conflict. Currently, Dr. Theocharous continues her dedicated work on a political level while promoting and supporting the Armenian cause at the European Parliament. As a result of her diligent efforts, Dr. Theocharous has also received awards from the Artsakh authorities, the President of the Republic of Armenia, and the Armenian Parliament. In the absence of Dr. Theocharous, the award was presented to the EAFJD Director, Kaspar Garabedian. In her video message presented to the audience, Dr. Theocharous said "The struggle of the Armenians for their nation, their religion, their freedom… their self-determination is great and continues. In this struggle I am an Armenian as well. We are all Armenians… I feel the need to congratulate the ARS in the organization of such important activities. I feel deeply moved and grateful and I want to thank you for remembering, recognizing, and honoring my work with such a prestigious award, but mostly for not forgetting those who adore Armenia".
The "Ararat" Award of Excellence was established in 2003. It is granted to individuals in recognition of their outstanding commitment to humanitarian endeavors and in deep gratitude for their unsolicited and meritorious service to the Armenian people.
The ARS, Inc. 71st International Convention is taking place from October 4-9 in Yerevan, Armenia. Attending the meeting are delegates elected from 20 regions, as well as observers, invitees, and representatives of sister organizations.
<< Back to Recent News