ARS "Soseh" Kindergartens
Over the entire four years of the Artsakh liberation war, when the orphaned, often homeless children of more than 7,000 martyred freedom fighters and countless civilian casualties were in dire need of immediate assistance from state-run and private humanitarian organizations, the ARS, steeled with its decades-long experience in benevolent activity, as always, at this historic hour was there to assist.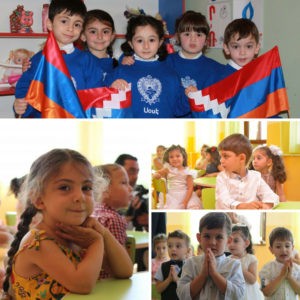 In 1998, at the close of the armed conflict and the beginning of the reconstruction years, the Artsakh Ministry of Education offered the ARS a war-damaged building in Stepenakert to repair and use as a refuge for needy families and children left homeless by the ravages of war. In April of the same year, in that half-renovated building, the ARS "Soseh" Kindergarten opened its doors to 87 three to six-year-old children, laying the foundations of the future Artsakh-wide network of ARS "Soseh" Kindergartens. Today, the Armenian Relief Society has 8 "Soseh" Kindergartens across Artsakh -- in Stepanakert, Shoushi, Togh, Metz Tagher, Ashan, Akanaberd, Qaregah, and Khndzristan. Since 1998, over 8,500 children have enjoyed the warmth and nurturing care of these kindergartens. Soon, "Soseh" kindergartens started operating in Bulgaria in the cities of Sofia, Plovdiv, Varna, Burgas and Rousseh.
In 2015, during the highest meeting of the organization, the assembly voted to undertake the project to renovate the Stepanakert Kindergarten. In just two years, the ARS was able to renovate it to a two-story building equipped with modern and became witness to their hard work's fruition. The school also features a bunker that will serve as a shelter in the event of bombings to shield children from danger.
To date, the ARS has allocated over $5 Million to the "Soseh" kindergarten program.
In November of 2020 due to the 44-day war four kindergartens were lost. The kindergartens in Shushi, Togh, Metz Tagher, and Qaregah are no longer under control of the Republic of Artsakh. However, the four remaining kindergartens in Stepanakert, Ashan, Aknaberd and Khndzristan still function and are making an impact.
The ARS "Soseh" kindergartens remain a positive presence in the lives of Artsakh's children and their families. These kindergartens instill not only the basics of an Armenian education during these children's earliest formative years, but they also provide them safe, lively and caring surroundings, nurturing and preparing them for a healthy and productive future.