Statement Against on Ongoing Genocide
September 14, 2022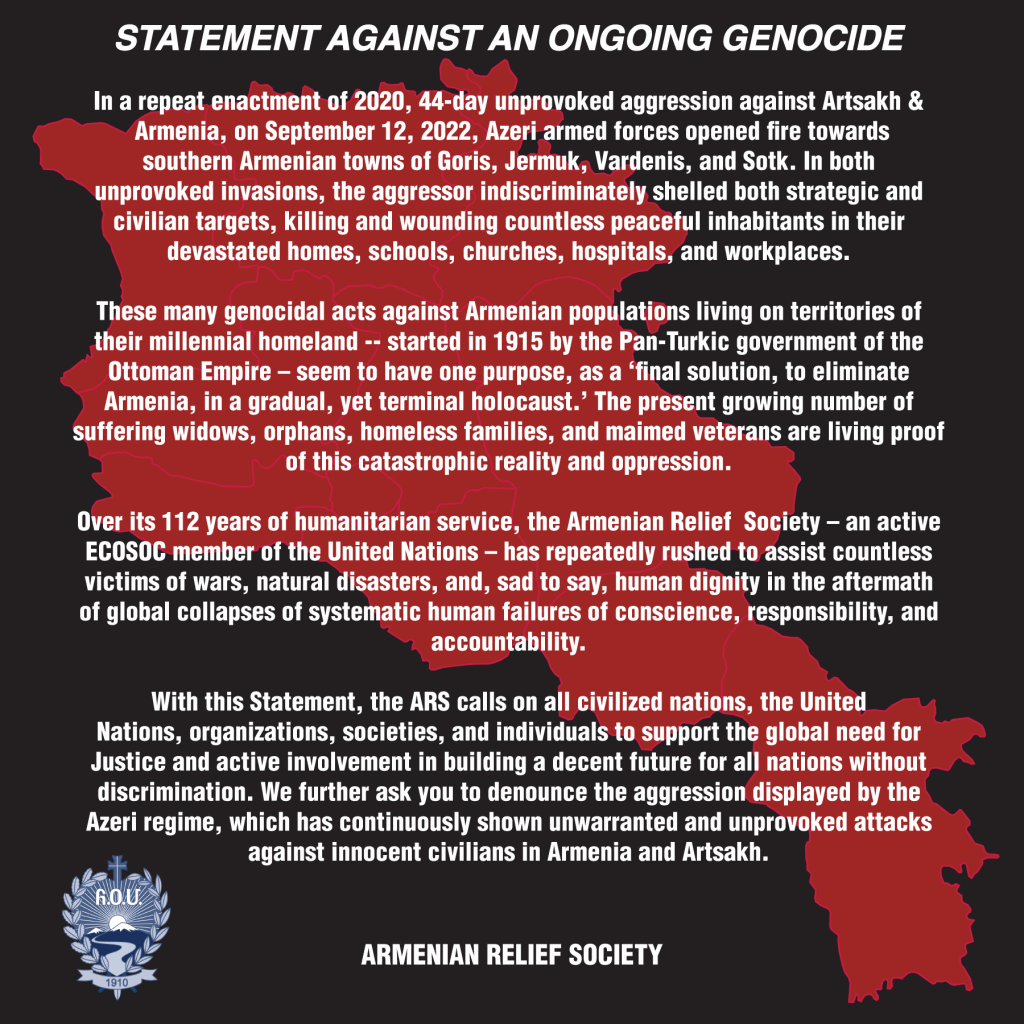 In a repeat enactment of 2020, 44-day unprovoked aggression against Artsakh & Armenia, on September 12, 2022, Azeri armed forces opened fire towards southern Armenian towns of Goris, Jermuk, Vardenis, and Sotk. In both unprovoked invasions, the aggressor indiscriminately shelled both strategic and civilian targets, killing and wounding countless peaceful inhabitants in their devastated homes, schools, churches, hospitals, and workplaces.
These many genocidal acts against Armenian populations living on territories of their millennial homeland — started in 1915 by the Pan-Turkic government of the Ottoman Empire – seem to have one purpose, as a 'final solution, to eliminate Armenia, in a gradual, yet terminal holocaust.' The present growing number of suffering widows, orphans, homeless families, and maimed veterans are living proof of this catastrophic reality and oppression.
Over its 112 years of humanitarian service, the Armenian Relief Society – an active ECOSOC member of the United Nations – has repeatedly rushed to assist countless victims of wars, natural disasters, and, sad to say, human dignity in the aftermath of global collapses of systematic human failures of conscience, responsibility, and accountability.
With this Statement, the ARS calls on all civilized nations, the United Nations, organizations, societies, and individuals to support the global need for Justice and active involvement to build a decent future for all nations without discrimination. We further ask you to denounce the aggression displayed by the Azeri regime, which has continuously shown unwarranted and unprovoked attacks against innocent civilians in Armenia and Artsakh.
Central Executive Board of the Armenian Relief Society
ՀՕՄի Յայտարարութիւնը Շարունակուող Ցեղասպանութեան մը Դէմ
Կրկնելով 2020 թուի 44-օրեայ անակնկալ յարձակումը Հայաստանի եւ Արցախի վրայ, Սեպտեմբեր 12, 2022ին, ազերի զինեալ ուժերը սկսան ռմբակոծել Հայաստանի հարաւային շրջանի Գորիս, Ջերմուկ, Վարդենիս ու Սոտք բնակավայրերը: Այս երկու յանկարծական յարձակումներուն ընթացքին թշնամի ուժերը անխտիր թիրախաւորեցին թէ զինուորական եւ թէ քաղաքական վայրերը, կոտորելով բազմաթիւ անմեղ բնակիչներ իրենց քանդուած տուներուն, դպրոցներուն, եկեղեցիներուն ու գործատեղիներուն մէջ:
Անցեալ տասնամեակներու ընթացքին, իրենց պատմական հողերու վրայ ապրող հայ խաղաղ բնակչութիւններու դէմ ի գործ դրուած նմանօրինակ ցեղասպանական արարքներու շարանը – սկսեալ 1915 թուի օսմանեան կայսրութեան համաթուրանական կառավարութեան կողմէ ծրագրուած եւ ի գործ դրուած անցեալ դարու առաջին ցեղասպանութենէն – ունի միակ ու յատուկ նպատակ ՄԻԱՆԳԱՄ ԸՆԴՄԻՇՏ ՈՉՆՉԱՑՆԵԼ ՀԱՅ ԱԶԳԻ ԱՆԿԱԽ ՊԵՏԱԿԱՆՈՒԹԵԱՆ ԿԱՌՈՅՑԸ : Ներկայ շարունակականօրէն աճող տարագիր հայ այրերու, որբերու, տնազուրկ ընտանիքներու եւ հաշմանդամ մարտիկներու թիւը կը հաստատէ այս ողբերգական իրավիճակի ահաւոր իրականութիւնը:
Իր 112 Տարիներու մարդասիրական աշխատանքներու ընթացքին, Հայ Օգնութեան Միութիւնը գործունեայ անդամ ՄԱԿի ECOSOC Յանձնաժողովին` բազմաթիւ անգամ շտապեր է օգնութեան հասնիլ պատերազմներու, բնական աղէտներու եւ ցաւալիօրէն մարդկային արարքներու անպաշտպան զոհերուն:
Սոյն յայտարարութեամբ, ՀՕՄը կը դիմէ բոլոր քաղաքակիրթ ազգերու, կազմակերպութիւններու ներկայացուցիչներուն, եւ սրտցաւ անհատներու, որ մէկ կողմ դնելով քաղաքական իւրայատուկ շահերն ու միտումները, գործնականօրէն զօրավիգ կանգնին Համամարդկային Արդարութեան ու Խաղաղութեան անյետաձգելի ու յաճախ անտեսուած անմիջական կարիքներուն, միաժամանակ խնդրելով որ արդար դիրքաւորումով դատապարտեն վայրագ ոտնձգութիւնները Հայաստանի եւ Արցախի ժողովուրդներուն դէմ:
Հայ Օգնութեան Միութեան Կեդրոնական Վարչութիւն
With the above statement, we call upon you to help us help those in need once again. We are requesting monetary donations to purchase necessary supplies in Armenia for the more than 2500 displaced citizens in the Syunik Province. Step up to the call to Action to help our homeland survive.
Donate today
<< Back to Recent News