ARS Welcomes a New Entity in the Netherlands
July 5, 2018
Almelo, Netherlands – The Armenian Relief Society, Inc. welcomed the inception of the ARS
"Netherlands" Chapter-at-Large on June 30, 2018. The establishment of the new chapter in the Netherlands, adds another country to the ARS portfolio, making it 27 countries with active ARS Chapter(s).
Over 100 community members gathered at the Calouste Gulbenkian Hall in Almelo and learned about the Armenian Relief Society and the activities it carries out worldwide and in the homeland.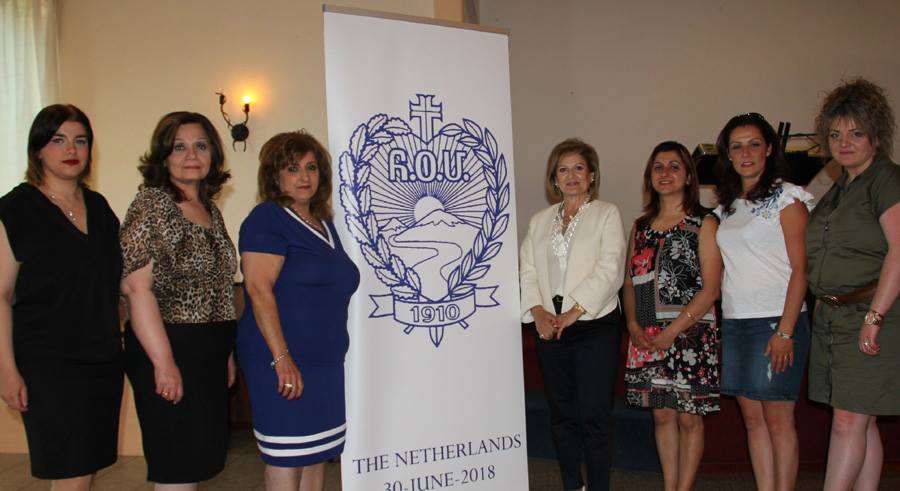 Central Executive Board member Ungerouhi Liza Avakian provided the newly formed chapter with the ARS flag, so it can be proudly displayed during the ARS events. In her congratulatory remarks she said, "We are excited that yet another diasporan community will have an ARS Structure in its region and we are hopeful that the new chapter will diligently work to serve the humanitarian mission of the organization both on a local and global level." The event also featured a cultural program.
On behalf of our large family, we whole heartedly congratulate the Chapter-at-Large and wish them luck in all of their endeavors. We are cognizant that as long as they take bold steps, they will be contributing to the selfless work of the ARS.
***
Established in 1910, the ARS operates in 27 countries, serving the humanitarian needs of Armenians and non-Armenians alike. Through its avowed mission and numerous philanthropic projects, the organization has empowered women to make an impact on their communities and has promoted education, health, and humanitarian aid.
Arm. Translation
ՀՕՄ-ը կը Հիմնէ Նոր Մեկուսի Մասնաճիւղ մը Հոլանտայի Մէջ
Ալմելօ, Հոլանտա – Հայ Օգնութեան Միութիւնը Յունիս 30, 2018-ին Ալմելօ քաղաքին մէջ հիմը դրաւ Հայ Օգնութեան Միութեան Հոլանտայի Մեկուսի Մասնաճիւղին: Նոր մասնաճիւղի այս հիմնադրութեամբ, ՀՕՄ-ի կառոյցներու թիւը կը հասնի 27 երկիրներու, ուր ՀՕՄ-ը իր մասնաճիւղերով գործօն դերակատարութիւն կ'ունենայ:
Հարիւրէ աւելի հայրենակիցներ հաւաքուած էին Գալուստ Կիւլպէնքեան սրահին մէջ, ուր դաստիարակչական յայտագրին ընթացքին, Հայ Օգնութեան Միութեան ծաւալուն գործունէութեան մասին տեղեկութիւններ փոխանցուեցաւ:
Կեդրոնական Վարչութեան ներկայացուցիչ, Լիզա Աւագեան նոր մասնաճիւղին նուիրեց ՀՕՄ-ի դրօշակը, որպէսզի ան հպարտութեամբ ծածանի նորաստեղծ մասնաճիւղի աշխատանքներու ընթացքին: Իր ողջոյնի խօսքին մէջ շեշտելով կարեւորութիւնը սփիւռքի նոր գաղութի մէջ այս կազմակերպութեան հիմնադրութեան ըսաւ «լիայոյս եմ եւ համոզուած որ նոր մասնաճիւղը իր առաւելագոյնը պիտի տայ իր գաղութին եւ հայրենիքին՝ միշտ հետապնդելով ՀՕՄ-ի առաքելութեան եւ նպատակներուն թէ' շրջանի եւ թէ' կեդրոնականի մակարդակներու վրայ»: Ձեռնարկը աւարտեցաւ գեղարուեստական յայտագրով մը:
Հայ Օգնութեան Միութեան մեծ ընտանիքին անունով, սրտանց կը շնորհաւորենք եւ բարի երթ կը մաղթենք շրջանի անդամներուն: Քաջ կը գիտակցինք որ իրենց ինքնավստահ ու անվարան քայլերով պիտի նպաստեն ՀՕՄ-ի բոլոր ազգանուէր գործերուն:
***
1910-ին հիմնուած Հայ Օգնութեան Միութիւնը (ՀՕՄ) 27 երկիրներու մէջ գործող մասնաճիւղերով, ոչ-յարանուանական, մարդասիրական միութիւն մըն է, որ համաշխարհային տարողութեամբ կը ծառայէ ու կը սատարէ դաստիարակչական ծրագիրներու, առողջապահական, բարեգործական անմիջական օգնութիւն կը ցուցաբերէ հայ գաղութներուն եւ նեցուկ կը կանգնի կնոջական իրաւունքներու պաշտպանութեան, բարելաւման ու տարածման ի խնդիր տարուող աշխատանքներու:
<< Back to Recent News