Untold Accounts: Arpie Balian
December 14, 2018
Untold Accounts: Thirty Years Later
That is how I titled this series of short stories that depict the untold accounts of the emergency assistance rendered by the Armenian Relief Society, Inc. (ARS) to the victims of the devastating earthquake that shook the North of Armenia on December 7, 1988.  Thirty years have passed, but I vividly remember waking up that morning to the news of the earthquake and rushing to mobilize the ARS Central Executive Committee to take immediate action to help the homeland. True to the ARS mission, all of us stood committed to reach out to provide disaster relief.  Aside from the mammoth efforts by ARS regions and chapters worldwide, ARS Central focused on raising awareness through the media, TV and radio talk shows, to secure cash donations to support our response, and to engage Armenian and non-Armenian partners to optimize our response to the catastrophe.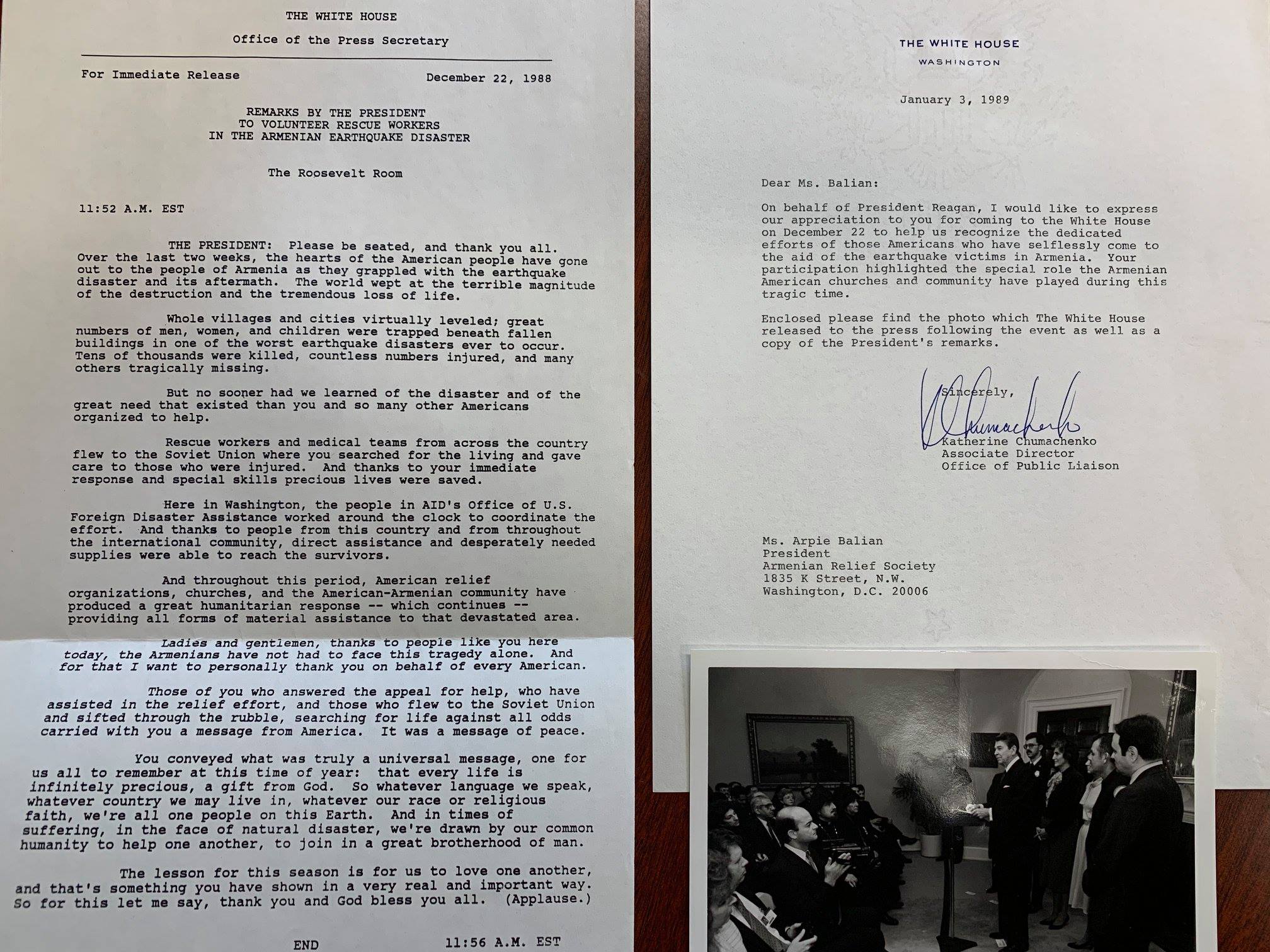 The ARS emergency relief assistance included immediate shipment of equipment to assist in the rescue efforts, followed by water-purification tablets, antibiotics, and other medical supplies within days and weeks following the earthquake. More significantly, ARS Central worked closely with the U.S. Department of Defense (Office of Disaster Assistance) and the U.S. Agency for International Development in rushing relief specialists and rescue dogs to Armenia on December 11, as well as thousands of cots, blankets, tents and other non-perishable items that filled a huge C-5A aircraft.  I was standing at the airport tarmac thinking these would provide some relief, but so much more was needed. The subsequent efforts by the ARS worldwide network were far-reaching and extended over the years following the earthquake.
But the everlasting work that ARS accomplished is not what I have portrayed in my earthquake stories. As I leafed through the pages of my journal, human stories caught my eye overtaking accounts of ARS successes, albeit noteworthy and realized without fanfare.  That's left for historians to capture and share with the new generation of Armenians. This series of short earthquake-associated stories is intended to tell about those others who have left an indelible mark in my life at the ARS. This series is in remembrance of those individuals or groups that have shaped my tenure as President of the ARS (1987-1991) and grew my love for humanity.  
Thirty years after the Armenia earthquake, I share these stories with my readers, in memory of those who perished in the earthquake and in salute of those who rose from the rubbles.
In Gyumri on January 30, 1989
Seven weeks after the 1988 Armenia earthquake, our ARS team of seven arrived in Moscow on January 26, 1989 and on to Armenia two days later.  This was my first trip to the homeland, as it was for most of the others on the team. Naturally, the first item on our agenda was to take a tour of the devastated region, meet with officials, and gather as much information as possible to be able to make informed decisions regarding projects ARS would take on.  
On January 30, 1989 we went to Gyumri escorted by a top official of the State Committee for Cultural Relations with Armenians Abroad.  Our host was kind and very accommodating. As much as one would have kept abreast of the news covering the Armenia earthquake, it was devastating to witness the destruction in person — houses turned into heaps of metal and concrete; apartment buildings in ruins; people with faces full of grief and anguish — and even harder to describe it.  I observed carefully and listened attentively, taking notes of the key issues that I were to discuss with my ARS Central Executive Committee colleagues upon return.
The facts we gathered and the needs assessment we made served as a reliable data source for several non-Armenian organizations headquartered in Washington, D.C. to launch humanitarian and technical assistance programs in Armenia.  The ARS Office had become a hub that many of those organizations visited or contacted for information or referral before starting their programs. One such 501(c)(3) group partnered with the ARS to provide technical assistance in the months that followed.
On that day and amidst the devastation in Gyumri, there also was hope and determination to pull out of the rubbles.  A young man approached us during a stop on the outskirts and introduced himself as a local. He was rather optimistic and warmhearted.  One would think our roles were reversed. He was consoling and giving us hope that 'everything will be fine' inviting our group to his home for coffee.  He was sincere and kept insisting, but out schedule was too tight to allow additional stops and had to decline his invitation. We later found out that he had lost everything in the earthquake and was living in a large wooden crate (not domik).  What a big heart and spirited young man in the middle of so much devastation!
Moments with Rostropovich
Weeks after the earthquake, a good friend suggested that I approach Mstislav Rostropovich to ask if he would consider giving a benefit concert for the victims of the earthquake.  I quickly made an appointment and went to see him in his office at the John F. Kennedy Center for the Performing Arts in mid-January. He was working as the Music Director of the National Symphony Orchestra in Washington, D.C. and had retired from performing as cellist for about four-five years.
On time for our meeting and slightly intimidated by his fame, I stepped into his office unassumingly and spoke softly.  I gave him a brief introduction about the ARS, who we are and what we do, elaborating a bit on the relief work we had accomplished in the first weeks following the earthquake in Armenia.  Then, without further ado, I popped the question on doing a benefit concert for the victims.
He was in tune with the extent of the demolition caused by the earthquake and was very enthusiastic to be given the opportunity to lend a hand.  There was absolutely no hesitation in his agreement to do a solo concert after years of not being on stage playing the cello. He loved Armenia and Armenians!  He spent the next 20-30 minutes reminiscing nostalgically about the summers he had spent in Dilijan as a rising musician and the good times spent with his Armenian friends.  Just before we wrapped up the meeting, he consulted the Kennedy Center schedule of events and found a date when the Opera House was available — February 7, 1989, only 20 days later.
Now the onus was on us to get the 2,300-seat hall at the Kennedy Center filled for the concert.  Our partners in earthquake relief, Volunteers in Technical Assistance (VTA), quickly organized the ticket sales using the large crew of volunteers on their roster, along with our own ARS members living in the Washington metropolitan area.  February 7, 1989 was marked as a day of remembrance of the victims of the earthquake but, more importantly, as a day of hope for the survivors. A cello concert par excellence with Mstislav Rostropovich interpreting his best cello repertoire, including Dvořák's Cello Concerto in B minor; Haydn's cello concerti in C and D; Prokofiev's Symphony-Concerto; the two cello concerti of Shostakovich, and others.
An evening with Rostropovich that raised awareness and helped hundreds of earthquake victims put food on their table.
<< Back to Recent News