The Armenian Relief Society Visits the Galstyan Family
May 13, 2016
Initiated by the Armenian Relief Society (ARS) Central Executive Board and headed by ARS/Armenia Regional Board Chairperson, Narine Galstyan, on May 12, 2016, the ARS Representatives, accompanied by the Representative of the ARS Akhurian "Mother & Child" Health and Birthing Center, Suzanna Hovhannisian, went to Gyumri to pay a visit to the family of the late freedom-fighter, Hratch Galstyan, martyred in Tallish during the four-day April war.  The purpose of the visit was to congratulate the birth of the baby Anahit on behalf of the world-wide membership of the Armenian Relief society, and to offer moral and material assistance to Galstyan's widow, Anoush Ohanian and the entire family.
On this occasion, ARS Central Executive Board Chairperson, Caroline Chamavonian, stated, "In immediate response to the April conflict, the ARS called upon all its entities and communities assist the population of Artsakh. At this moment, Artsakh and its people are our primary concern. Putting all our resources to their service, in the spirit of our slogan, "With the people, for the People" , we shall continue our devoted care to the wounded and martyred soldiers' families, and all others who need our assistance in the aftermath of this murderous aggression."
The birth of Vrej, the very first child to be delivered at the ARS "Mother & Child" Birthing Center was registered on April 24, 2005, and now, eleven years later, the birth of the orphaned Anahit comes to reassure us, that the unshaken will of the Armenian people to live, and help others live, remains as strong as ever.
Let us note, that baby Anahit Galstyan was born on May 6, 2016, under the roof of the ARS Akhurian "Mother & Child" Health and Birthing Center, established in 1997, servicing the health needs of the Akhurian population, including many of the nearby villages.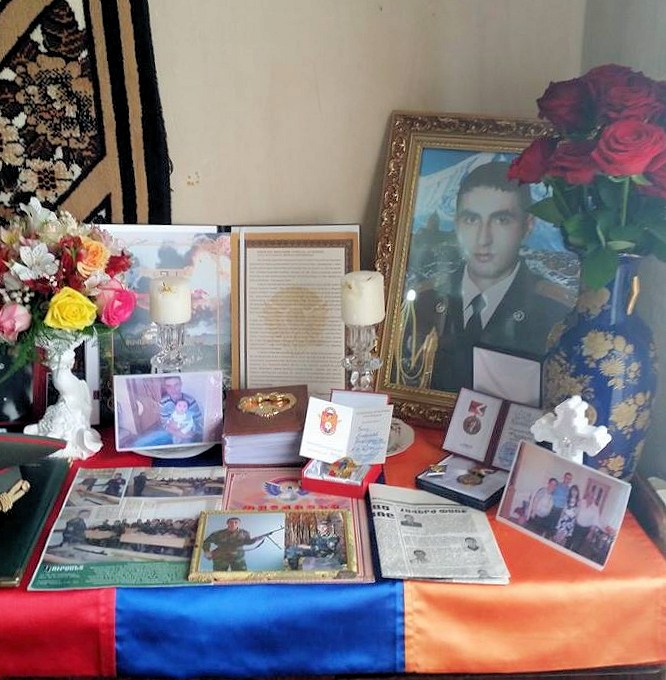 ??? ????????? ???????? ???????????????? ????????? ???????? ?????????
??? ????????? ???????? ?????????? ?????????? ???????????????, ????? 12, 2016??, ???? ????????? ????????? ?????????? ????????????? ?????? ????????? ??????????????, ???? ?????????????????, ?????? ???? ???? ????????? «??? ?? ??????» ??????? ?????????????? ???????? ?????????????, ????????? ??????? ???????? ???????? ????????? ???????, ?????? ??? ??????? ???????????` ???? ????????? ?????????: ??????????? ??????? ?? ???? ???????????? ??????????? ????? ??????????? ??????? ??????? ???????, ?????? ???? ????????? ?? ???????? ??????????? ?????????? ????????? ????? ????? ????????? ?? ?????? ?????????:
??? ?????, ???? ?????????? ?????????? ????????????? ??????? ??????????, ????? «???? ????????? ???????????? ???????? ???????????????????, ??? ?????? ???????????? ?? ?????? ??????????? ??????????????? ????????? ????????????? ??????????? ????????: ??? ??????, ???? ????? ?????????? ??? ?? ????? ?????? ?? ????????????????: ????????????? ??? ????? ??????????, «??????????? ???, ??????????? ?????» ????????? ???? ???????????? ????? ??????? ?? ??????? ???????????????? ????????????? ?? ?????? ?????, ????? ??? ???????? ???????????? ??? ??? ??????????? ?? ???????»:
???? «??? ?? ??????» ???????? ?????? ???????? ?????? ??????? ???????????? ? ????? 24, 2005??, ?? ?????, ??????? ??????? ???, ???????? ??????? ??? ??? ????? ?? ??? ??? ??????????, ?? ??? ???? ??????? ? ??????? ?? ?????????? ??????:
?????????, ?? ?????? ????????? ???? ????? 6, 2016-??? ??? ????????? ???????? «??? ?? ??????» ??????????? ?????? ?? ??????????? ????: ???????, ???????? 1997-??, ?? ???????? ????????? ?? ??????? ???????? ????????????, ????? ??????????? ????????? ????????????? ???????? ??????????????:
<< Back to Recent News